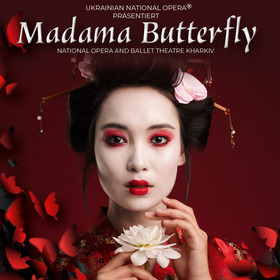 Rescheduled
Previous date:
Madama Butterfly - Ukrainian National Opera
National Opera and Ballet Theatre Kharkiv, Ukraine &nbsp
Congress Park Hanau, Paul-Hindemith-Saal
Am Schlossplatz 1
63450
Hanau
Tickets from €55.00 *
Concession price available
Event organiser:
Klassik Konzert Dresden GmbH & Co. KG, Klarastraße 3, 01099 Dresden, Deutschland
Event info
Ukrainian National Opera
präsentiert

"Madama Butterfly"

Musik: G. Puccini.
Ensemble: National Opera and Ballet Theatre Kharkiv, Ukraine
Mit einer beeindruckenden Besetzung und begleitet von einem dreißigköpfigen Orchester,
In italienischer Sprache mit deutschen Übertiteln

Keine Oper kann sich mit der Tragödie und dem Leid von Puccinis Madama Butterfly messen.
Sie spielt in Japan um 1900 und erzählt die Geschichte einer zum Scheitern verurteilten Liebesbeziehung zwischen einem amerikanischen Marineoffizier und seiner jungen japanischen Braut, deren Selbstaufopferung und Widerstand gegen ihre Familie zur Tragödie führt.

Obwohl die fesselnde Geschichte von Madama Butterfly unendlich traurig und tragisch ist, blieb sie Puccinis Lieblingsoper. Seine theatralischen Höchstleistungen haben der Welt die erhabensten Arien der Geschichte beschert und sind bei Opernbesuchern seit über einem Jahrhundert beliebt.

Diese rührende Geschichte einer unschuldigen Liebe, die zwischen zwei völlig unterschiedlichen Kulturen zerbrochen ist, hat auch in der heutigen Zeit nichts an Aktualität eingebüßt.

Die Oper von Charkiw kann auf eine lange Tradition hochwertiger Inszenierungen zurückblicken, die wir Ihnen nun erstmals im Bundesgebiet präsentieren dürfen. Nicht erst seit der Zerstörung des heimischen Theaters im März 2022 ist das Ensemble mit Gastspielen in aller Welt unterwegs.
Directions
Congress Park Hanau, Paul-Hindemith-Saal
Am Schlossplatz 1
63450 Hanau
Germany
Plan route