Zu Ihrer Sicherheit und der weiteren Eindämmung des Coronavirus finden alle Veranstaltungen unter Einhaltung der gesetzlichen Vorschriften statt. Bitte beachten Sie die Hygienemaßnahmen vor Ort.
Rescheduled
Previous date:
Matthieu Saglio
Hardtstraße 37 a
76185
Karlsruhe
Event organiser:
Kulturzentrum Tempel, Hardstraße 37a, 76185 Karlsruhe, Deutschland
Event info
Samstag, 17. Okt, 2020 20 Uhr Scenario Halle
Matthieu Saglio

Cello, composition, sampler:

After hundreds of concerts in more than thirty countries, the cello player and composer Matthieu Saglio presents a combination of classical tradition with sounds and rhythms brought from his encounters across the world. In his compositions, you can hear resonating echoes from the Western cathedrals and souks of Maghreb, the Latin-American tango and the Iberian flamenco.

The sampler's magic permits Matthieu to be recorded live to create a dialogue with himself through the means of his virtual alter-ego. A base line, with airy pizzicati and a motif with the bow… The cellist builds an original and elegant architecture, without letting the technique have priority over emotion. They said: "An indisputable technical ability that allows him to get from the instrument an infinite range of sounds. An opening to the new without stylistic and geographic boundaries, which allowed him to draw a very personal journey, from Bach to tango, funk and oriental influences without his train derailed ever from the path."

Duration: 70 min.

- El País "While a cello concert in theory could seem a little monotonous, the truth is that Matthieu proves quite the opposite and causes the listener to vibrate with the sounds that he manages to draw out with his instrument. (…) A delight." - World Music "More than a cello. His music will accompany us with his emotional beauty for a long time. Maybe even forever." - Amancio Prada "The inner world of the artist offers us through his music is so rich that we do not need ears to understand it, just let it nourish our soul. Three stars guaranteed!" - Patrick Derlon, FIP Duration: 70 min. A
Event location
Kulturzentrum Tempel
Hardtstrasse 37 a
76185 Karlsruhe
Germany
Plan route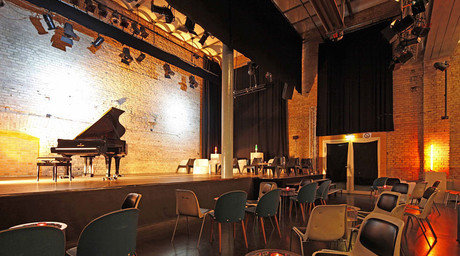 Das Kulturzentrum Tempel, untergebracht in einem denkmalgeschützten Gebäude auf dem Gelände der ehemaligen Seldeneck'schen Brauerei in Mühlburg, bietet im Raum Karlsruhe eine einzigartige Plattform für die Förderung der schönen Künste.

Seit 1984 ist der Tempel ein unabhängiges soziokulturelles Zentrum, das nicht nur mit zahlreichen Veranstaltungen in den Bereichen Musik, Tanz und Kunst aufwartet, sondern auch ein lebendiges Netzwerk für Kunst- und Kulturschaffende der freien Szene bildet. Ein besonderes Anliegen des Zentrums liegt dabei in der Nachwuchsförderung: Musikern, Tänzern, Choreographen und Künstlern wird hier Raum zur Entfaltung und zum künstlerischen Austausch geboten.

Kernstück des Hauses ist die Scenario Halle. Authentisch restauriert und technisch auf dem neuesten Stand, bildet die Halle den idealen Rahmen für die unterschiedlichsten Spielarten der freien Kulturszene. Sie bietet eine Bühne für Zeitgenössische Musik in all ihren Facetten, für Tanz-Events und vieles mehr. Hier ist die Kreativität zu Hause!